1.  LG Unveils G7 ThinQ
LG G7 ThinQ /  image source:: Engadget 
LG finally unveiled the new flagship G7 ThinQ today.
G7 ThinQ features 6.1 inch full-vision display with 19.5:9 aspect ratio and QHD + resolution. On top of that, new G7 ThinQ is not only powered by 2.8GHz octa core Snapdragon 845 processor, but also includes new Boombox Speaker with hands free Google Assistant, as well as new dual-lens camera on the back.
When it comes to camera, the new G7 ThinQ rear camera consists first 71° 16-megapixel sensor with f/1.6 aperture and a second 107° 16-megapixel sensor with f/1.9 aperture. Additionally, the AI camera contains an app where you will be able to identify the subject that you are shooting, such as person, flower, pet, animal, etc and help you revise all pictures.
Moreover, G7 with 4GB RAM / 64GB of internal storage will be available in the U.S while 6GB RAM / 128GB storage will be shipped in certain markets.
G7 ThinQ will be available in four colors, including Raspberry Rose, New Moroccan Blue, Platinum Gray and Aurora Black.
There is no official announcement about pricing and release date for U.S market yet, but pre-orders will begin on May 24th for all major carriers.
2. Galaxy A6 / A6 Plus (2018) Official Announcement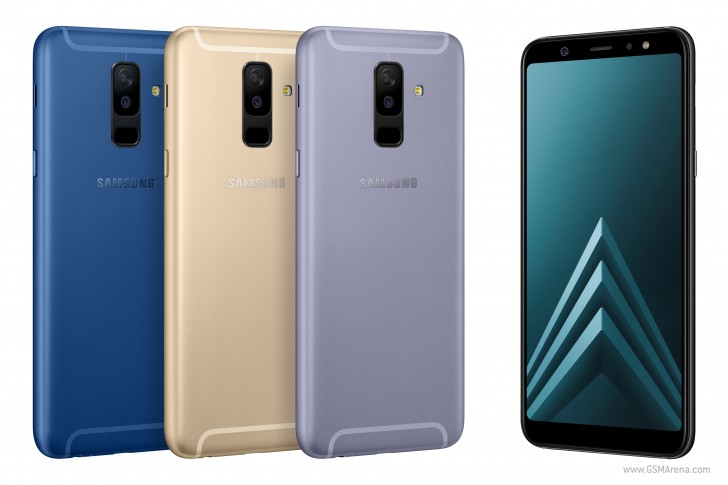 Galaxy A6 / image source: gsmarena
Samsung launched mid-range Galaxy A6 / A6+ with Android Oreo. Both devices not only feature bezel-starved with super AMOLED infinity display along with its 18.5:9 aspect ratio, but also support Bixby features and Samsung Pay.
To start with Galaxy A6, it has 5.6 inch diagonal display with 720 x 1,480 resolution, and includes 3,000 mAh battery, as well as powered by octa core 1.6 GHz CPU with 3/4 GB or RAM and 32/64 GB of internal storage.
On the other hand, Galaxy A6+ has 6-inch display with 1,080 x 2,220 resolution. The dual camera of A6+ is setup with first 16 MP f/1.7 sensor and second 5 MP f/1.9 unit. A6+ is powered by 1.8 GHz octa-core processor and has exact same RAM and internal storage as Galaxy A6.
Moreover, Galaxy A6 / A6+ comes in four color variations, including black, gold, blue and lavender.
Both devices will be available in early May in Europe, Asia and Latin America first, and then they will be available in South Korea, China and Africa later on.
3. Unlocked Phone, Moto G6 Available in U.K
Moto G6 unlocked phone appeared in UK.
Currently, Unlocked-MObiles and Clove have the units, and other companies will be able to purchase unlocked phones on May 9th.
Moto G6 Plus will also be unlocked in the UK on May 9th.
The selling price is £ 219.00, including tax.
4. Nokia X6 will be Released on May 16th in China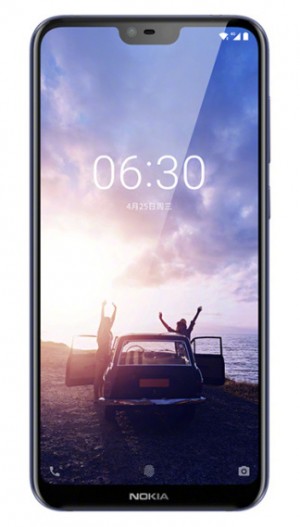 image source: gsmarena
The release date of the Nokia X6 has been postponed to May 16th from April 27th. (OnePlus 6 will be released on the same day. )
Nokia X6 will have 19:9 front screen with glass back dual camera, including fingerprint scanner and a metal frame.
5. BlackBerry Athena Device Leaked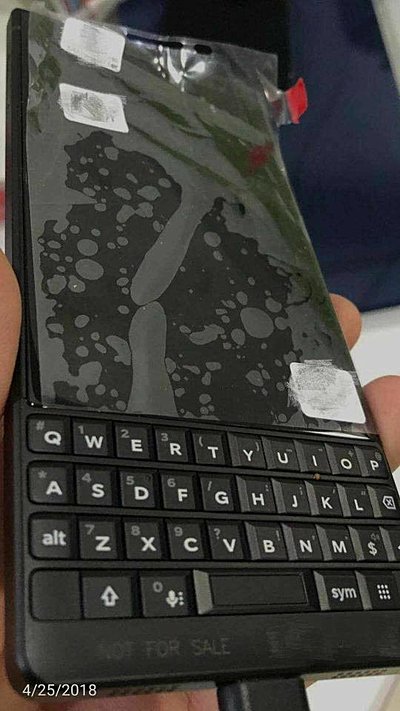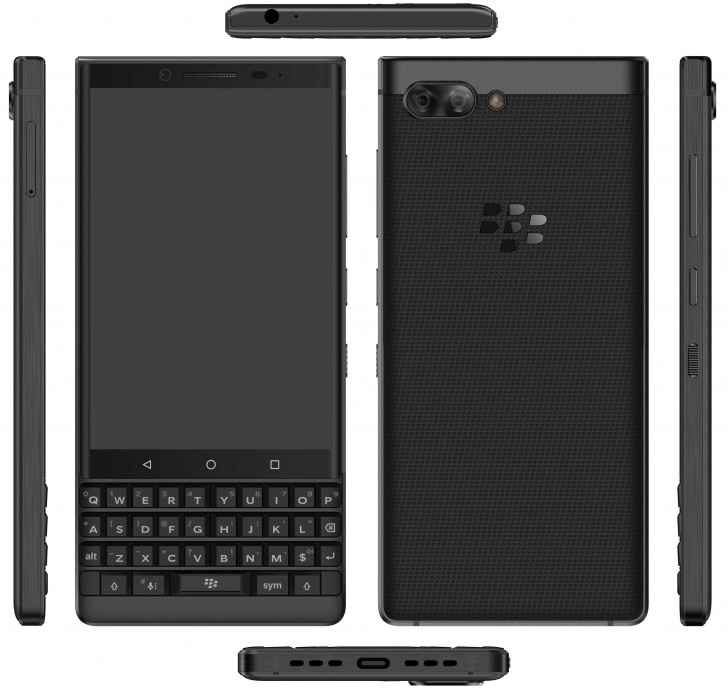 image source: gsmarea
A sample device that is supposed to be a BlackBerry Athena (code name) has been leaked. It looks the same design as the device registered for TENNA certification.
The new device Athena is known to be Keyone 2, and it looks very similar to original keyone, but new one has extended top bezel with dual camera on the back.
According to rumor, Athena supposed to be powered by Snapdragon 660 with 6GB RAM, Android 8.0 Oreo.
6. Huawei P20 Pro, Brisk Sales in Western Europe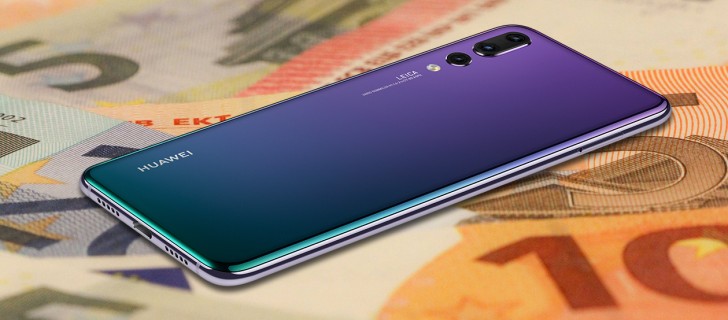 image source: gsmarena
Among the Huawei devices, the best selling product in the western Europe is known to be P20 Pro.
In China, there is a record of $ 15 million P20 / Pro sales in 10 seconds, and it also recorded 316% sales compared to the P10 Plus in Europe.
Most sales are done in the U.K / France / Germany, and the P20 has a high search ranking in Germany, Spain and Italy according to Google Trands.
7. Apple Releases 2018 Q2 Earnings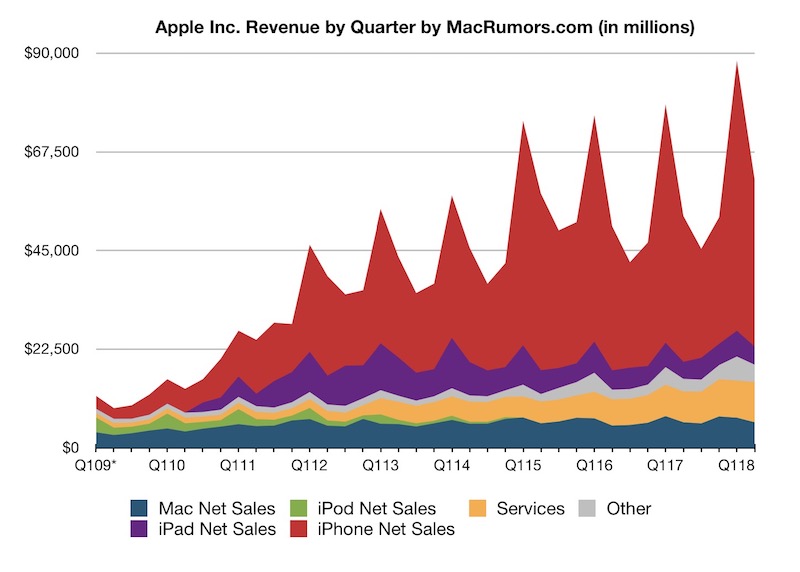 image source: macrumors.com
Apple has announced quarterly earnings.
Apple's revenues for the quarter were $ 61.1 billion and net income was $ 12.8 billion, up from $ 52.9 billion in revenue and $ 11 billion in net income in the prior year period.
The profit margin per sales was 38.3%, a slight decrease from 38.9% in the previous year.
Sales of 52.2 million iPhone were slightly up from 50.8 million,  iPad also slightly grew from 8.9 million to 9.1 million in the same period of last year, but sales of Macs decreased from 4.2 million to 4.1 million.
The exact sales of iPhone X have not been confirmed, but it is now the best selling model on any iPhone product line according to Tim Cook.
Other revenue from other products such as AirPods, Apple TV, Apple Watch, HomePod, and Beats totaled $4 billion, with the most profitable Apple Watch reporting double-digit year-on-year revenue growth.
8. T-Mobile Acquires Sprint
YouTube: T-Mobile
T-Mobile has officially announced its acquisition of Sprint.
The name of the new company remains the same "T-Mobile", and the current CEO of T-Mobile, John Legere, will become the CEO of the merged company.
T-Mobile became the No. 2 company in the United States with this merger, and the U.S mobile telecommunications system is reorganized into the Big 3 system of Verizon / T-Mobile / AT & T.
Because T-Mobile has a lower frequency and Sprint has a higher frequency, proper usage will have a significant market share effect in the 5G market.