1. Xiaomi officially opens in Spain (Western Europe Market)
Source: Xiaomi Mi Mix 2 / YouTube Capture
Xiaomi officially entered the Spanish market on November 7th with a launching event in Madrid, Spain. Although it is known that the main sales products are going to be the premium smartphone 'Mi Mix 2' and low cost smartphone 'Mi A1', Xiaomi will be focusing on sales more on the 'Mi A1'.
Xiaomi has started official online sales since November 8th and is expected to open a direct store in Madrid to strengthen its offline distribution network. Beginning November 22, other major retailers will be able to make purchases as well.
Xiaomi recently has moved away from the existing online-oriented sales strategy and is strengthening offline sales. 
2. Oppo R11s
Source: R11s Unpack Event / YouTube Capture
Chinese new smartphone Oppo R11s is gaining remarkable popularity in China and has sold more than 300,000 units in 24 hours.
According to Counterpoint Research, Oppo has a market share of 18.9% in the third quarter of 2017, making it the top brand in the Chinese smartphone market. It was a meaningful achievement for Oppo, especially in this intensely competitive Chinese market. Oppo's market share grew about 2.4% compared to the same period last year (16.5%).
---
Smartphone Market Share Rank in China
Oppo (18.9%)
Huawei (

18.6%)

Vivo 

(18.6%)

Xiaomi 

(13.8%)

Apple 

(10.0%)
---
OPPO R11s Specifications:
Display: 6.01 inch
Chipset: Snapdragon 660
Camera: Dual 20 MP + 16 MP
SIM: Hybrid Dual
Colors: Red, Black, Champagne
---
3. Tablet Market, Sales Downturn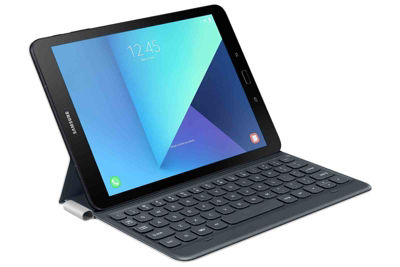 The global tablet market is failing to maintain a steady in sales.
According to IDC's Worldwide Quarterly Tablet Tracker data, 40 million tablets were shipped globally in the third quarter of 2017. This is a 5.4% year-on-year decline, as well as negative growth for 12 consecutive quarters.
What the industry is taking more seriously is that the constant price drop of the tablet. Even the industry leaders, Apple and Samsung are reported to have a significant portion of their revenues coming from low-cost tablets (iPad Mini, Galaxy Tab A and E Series).
According to IDC data, the global tablet market share is ranked as Apple (25.8%) / Samsung (15.0%) / Amazon (10.9%) / Huawei (7.5%) / Lenovo (7.4%).  Tablet sales of other companies are known to be stagnant except Amazon. (the third-highest growth rate of 38.7%.)
There are two reasons why the tablet market is not so big.
---
Overall, smartphones are big and have same functions as the tablet. 

The share of convertible PC is rising
---
Tablets are consistently pointed out that the 'tablet's competitiveness' is falling. Tablets input devices and performance are lacking and the entertainment is less competitive than big-screen smartphones.